What is CourseStreet?
Welcome to CourseStreet where learning comes first and the classroom has no boundaries. CourseStreet is a free social networking utility designed to enable blended or hybrid learning for higher education courses. It is typically used as a supplement to the traditional classroom course and can also be used as a full online course.
CourseStreet's course setup wizard and online editing tools make Web site development quick and easy for faculty with little or limited Web experience. Faculty more experienced with Web development will appreciate the ease with which they can develop complex learning Web sites.
Course administrators will appreciate the multitude of features available to them and the ease with which they can put these features to work.
| | | |
| --- | --- | --- |
| | | |
| | | |
And many, many more:
Announcements
Class directory
Course sections
Custom URL's
Personal homepages
Personal blogs
Email notifications
Text message notifications

RSS
Online exams
User profiles
Student drop boxes
Local time zones
Private messaging
Resource uploads
Site security

Video lectures
Student journals
Online editing tools
Point-and-click interface
Web setup wizard
Chat rooms
Chat monitor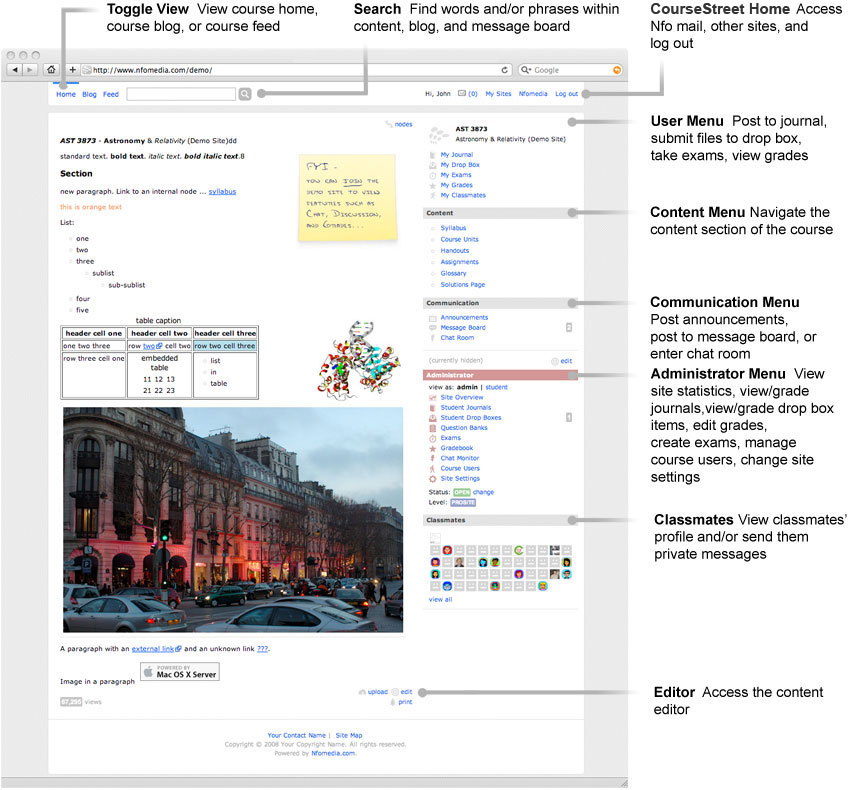 CourseStreet is free and there will always be a free version. Learn more
Related Links: